SIIT puts the emphasis on practical AME training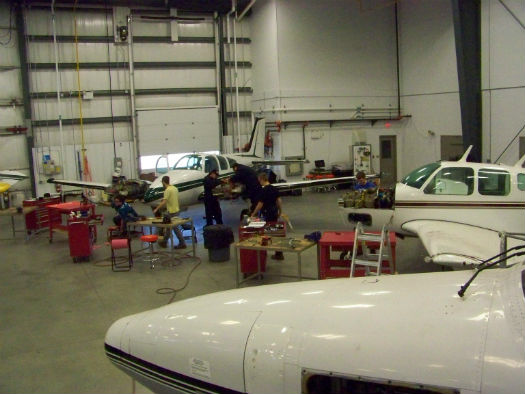 Since it began five years ago the Saskatchewan Indian Institute of Technologies' AME program has graduated 23 AMEs. SIIT Photo
Last fall, the Canadian government gave $2 million to the Saskatchewan Indian Institute of Technologies (SIIT) to expand the college's Aircraft Maintenance Engineering (AME) program. Aimed at First Nations/Metis students, but open to all qualified applicants, SIIT's AME program started in 2010 in response to the aerospace industry's urgent need for more AMEs. (This year's enrollment is evenly split between First Nations/Metis and non-First Nations/Metis students.)
"For the money, which is being applied to our state-of-the-art Saskatchewan Aviation Learning Centre (SALC) in Saskatoon, we are getting a working Cessna Citation to use for teaching our AME students, plus the necessary support equipment and hydraulic jacks," said Bill Wilkinson, SIIT's AME program head. "This will supplement the two Beechcraft Barons that we use for piston engine training, plus our operational Piper Cheyenne and Aeronca Champ; and the Bell UH-1H we use for our helicopter module."
Since it began five years ago, SIIT's AME program has graduated 23 AMEs. This is in line with the two-year program's emphasis on small classes and individualized instruction.
"We are working with all kinds of students; some of them are older and have been out of conventional classrooms for quite some time," said Wilkinson. "Our approach is to get all of our students up to speed and learning through a 50/50 mix of classroom and practical instruction, during two September-June terms that average 7.5 hours per weekday."
SIIT's AME program reflects the institute's larger focus on providing First Nations/Metis students with access to a wide range of trades training—not just in aviation, but also in business, construction, information technology, and practical nursing. SIIT has three campuses and seven career centres located across the province.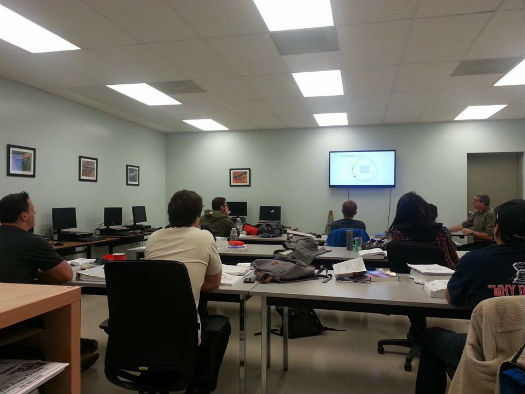 SIIT's AME program provides students with a range of training in aviation, business, construction, information technology, and practical nursing. SIIT Photo
For first-year student Montana Lachance-Wapass, becoming a certified AME is in line with his goal to travel the world. "I want to see everything, and do hands-on work that earns a good income," he said. "Becoming an AME will make this possible." According to the Saskatchewan Aviation Council website, "As a licensed AME, you can expect to earn from between $37,000 to $67,000 per year, with an average being around $55,000 per year. Along with a regular salary, most companies provide dental and health plans as well."
In getting his education at SIIT's SALC, Lachance-Wapass has chosen an AME school that is based in a purpose built-facility in Saskatoon. The SALC was constructed using $4.6 million in funds provided by the provincial and federal governments, Boeing, Lockheed Martin, and Rockwell Collins. "Our industry partners have helped make this school possible," said Wilkinsion. "Without their help, plus money from the province and the federal government, we wouldn't be here."
SIIT is certified as an Approved Training Organization by Transport Canada. AME graduates earn a SIIT Aircraft Maintenance Engineer Category M training diploma. This prepares them for AME apprenticeships in the private sector, and gives them each 18 months of credit towards the 48 months of industry experience they need to get AME licences.
"We start students from the ground up, starting with showing them what the tools are and how they are used," explained Wilkinson. "From here, we bring our students along in learning about airframes, aircraft systems, electricity, hydraulics, machinery, and wiring systems. By the time they are done, they know how to troubleshoot and repair a range of aircraft."
Today, SIIT AME grads are working throughout Saskatchewan and across Canada, including supporting aircraft for First Nations/Metis owners and operators. "Our students are getting the training and well-paying jobs they want, and the aviation industry is getting much-needed AMEs," said Wilkinson. "It is definitely a win-win."