Welcome A-Board to Kirk Watson!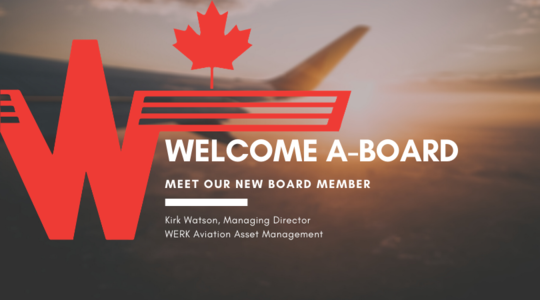 Currently the owner of WERK ASSET, with a current Transport Canada AME licence, FAA A&P Certificate, and Transport Canada Commercial pilot licence. I have a history as an AMO PRM. Four years was spent as the start-up manager of an aerospace manufacturing facility. Joining Air Cadets at 12 years old led to a glider pilot licence at 15. I have worked for Wardair at Northern Ops YZF and 747/DC-10 at YYZ, LaRonge Aviation, Field Aviation, Abu Dhabi Aviation, Emirates Air Service, City Express Airlines, Avmax, and over 11 years as SVP at a public US aircraft leasing company.
Being passionate about my profession lets me experience every new challenge as a learning opportunity. I enjoy sharing my knowledge, training others and mentoring. I believe self compassion is the key to living a good life and avoiding suffering. Continuous improvement is what I live by personally and professionally. I thrive on challenges, dispute resolution, novel solutions, win-win outcomes, and consider myself in servitude to my aviation/aerospace industry customers. I am an aircraft repossession subject matter expert having extensive experience worldwide.
I'm always in for skiing and golf. Home projects are a must, the self-taught DIY skills were tested with two full house renovations and a new build cabin lock-up to completion (and Google) has brought me to the place where there's virtually no limits. Helping others with their DIY projects/repairs and am still called on to help my friends move.
I have 8 years of non-profit board experience. I enjoy posting and writing on LinkedIn, mostly what interests me in aviation on the day which makes for a nice variety for my followers.
Alberta has an awesome aviation presence. I believe in Alberta's future and believe our oil and gas industry will convert to green and blue hydrogen resources that will make use of Albertan's traditional oil and gas and its workers skills. I am confident that environmentalists who have made oil and gas a target of their wrath will be our biggest supporters within 20 years.
My family includes two beautiful daughters and my high school sweetheart , and they are what matters to me most.